Last week, Shannon and I (Jeff) visited the CGOA conference! CGOA (
Crochet Guild of America
) is the only national organization dedicated to the craft of crochet. To quote their mission statement, "CGOA provides the opportunity for members to learn more about crochet, be inspired by innovative designs, and connect with other passionate crocheters."
We were proud to be a corporate sponsor, and we were lucky enough to get to cut the ribbon and open the event! We brought lots of goodies to share with the CGOA members, including skeins of
Madelinetosh
and
Spud and Chloe
that we cast into the crowd!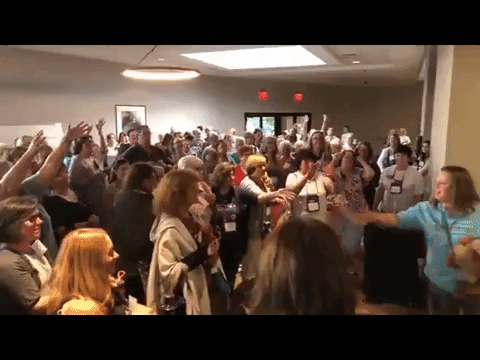 We also brought our
SmartStix Crochet Hooks
and shared them with attendees. They were a big hit! We even handed out a few
Crochet Club
projects to some lucky attendees!
If you're a crocheter, this event is an amazing experience. They had an absolutely overwhelming amount of classes, fun events (like a speed crochet competition!) and some of the biggest names in the crochet world were there. The work on display in the competition booth was beautiful and creative.. The amount of classes offered was overwhelming, some creating projects right in the classroom, and others teaching technique and theory spanning all levels of complexity, from basic to the advanced. These 'hookers' weren't shy either! It was a fun and exciting atmosphere filled with laughter and joy. We were very thankful to get to be a part of it.
To learn more about the CGOA, visit their
website
. Membership is only $35 dollars a year, and next year's event in Manchester New Hampshire promises to be even bigger and better!